IMS Presenting at EDI CON Online 2020!
IMS is excited to join the global community of RF, microwave, EMC/EMI and high-speed digital design engineers at EDI CON Online 2020 for FREE, real-time networking, product demonstrations, training, and learning opportunities!
Join IMS at EDI CON Online for a presentation on:
Exploring Power Dissipation Thermal Ratings for Fixed Attenuators
Presented by: Wes Laquerre, IMS Application Engineer
Date: Tuesday, October 13, 2020
Time: 01:30 PM EST
Duration: 30 minutes
A number of thermal/power design challenges are found when PCB Designers evaluate the use of fixed attenuators.
It is helpful to explore and understand relationships of applied power, dissipated power and the factors involved across multiple dB values of attenuators whether fixed in a component network or created using discrete individual resistors on a PCB.
Understanding all factors involved with properly rating attenuators offers a useful insight into practical challenges. Further, understanding the best practices on how to self-evaluate applications and apply them to the components required to realize designs becomes even more beneficial to designers. Some factors explored here include termination style, pad and via sizing, operating temperature, component substrate, resistor size, trim style and tolerance as they relate to power/thermal performance. Some insights into balancing RF and power performance will also be explored.
Presenter:
Wes Laquerre is the Applications Engineer at International Manufacturing Services (IMS). Wes joined IMS in 2019 after several years supporting digital audio applications. He has contributed at IMS in new product development and technical customer support. Wes manages customer application studies with a specialty in EM simulation and investigating the effect of physical component features as they relate to installed RF performance.
EDI CON Online is a FREE virtual conference covering a wide range of industry topics, from RF and microwave to EMC/EMI being held online every Tuesday in October 2020. Attendees can register for free through a single sign-on portal for all technical sessions, workshops, and keynotes (and on demand after the event). For more information on EDI CON Online, visit www.edicononline.com.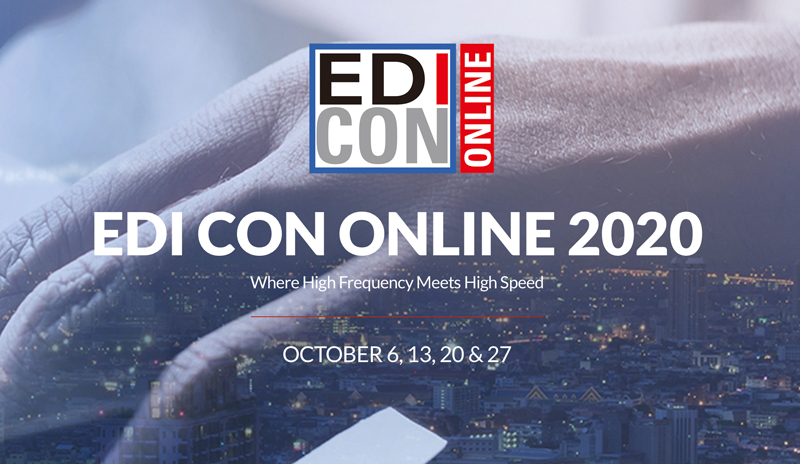 Select the sessions for which you would like at attend through the registration link below. Sessions include video, traditional webinar, and screen sharing formats allowing participates to interact in the live events (including Q&A) or watch later on demand.