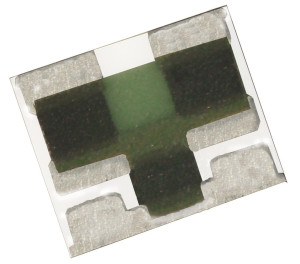 IMA Series Surface Mount Thick Film Attenuator
IMA Series Custom family surface mount thick film attenuators are compact, high performance devices especially suited to RF and microwave applications. Performance is based on the attenuator operating in a matched continuous 50 ohm system, with proper device mounting and workmanship.
At the circuit level, with proper application of RF principles, these attenuators, and their variations, are capable of operating up to 20 GHz with a managable VSWR.
IMA SERIES SPECIFICATIONS
Impedance: 50Ω Nominal
VSWR (Max): 1.25:1 up to 4 GHz, 1.35:1 @ 4 to 8 GHz, 1.50:1 @ 8 to 12 GHz
DC Attenuation Stability: .0001 dB/ dB/ deg. C *
Power Rating: 2W (metalized baseplate maintained below 100° C)
Operating Temperature: -55 deg. C to 150 deg. C
Frequency Range: DC – 12.4 GHz
Standard Case Size: 0.122" X 0.145" X 0.028" Max
Architecture: Thick Film on 96% Alumina (Al2O3)