IMS recognizes the worldwide effort toward RoHS compliance and the desire to eliminate lead and other environmentally hazardous materials from electronic components.
To efficiently respond to requests and questions from our customers we offer the following information: IMS has RoHS compliant products for all applications. Any customer with RoHS compliance requirements must specify that they want RoHS compliant parts.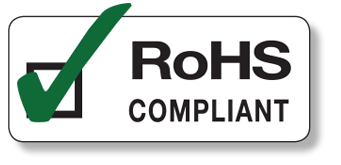 Generally:
1) All Nickel Barrier Solder Coated parts are available as RoHS Compliant. Specify RoHS or lead-free when ordering.
2) All PtAg and PtAu parts without solder coating are compatible with solder and epoxy attach and are also completely RoHS Compliant.
3) Customers requiring RoHS compliant Gold Terminated parts must specify this requirement to ensure RoHS compliant cadmium free gold. This requirement necessitates a part number change and may add to the lead-time. Contact factory for details.
4) RoHS compliant solderable parts have a MSL of 1 and are compatible with lead-free soldering temperatures. For special applications and other options please contact the factory. RoHS compliant Ni barrier part labels will change from pink PBF to green checkmark RoHS Compliant shown below. During this transition both may be in use.
For other IMS part numbers RoHS compliance is inherent in the part number. If you have any additional questions concerning RoHS and our products, e-mail your questions to techsupport@ims-resistors.com.