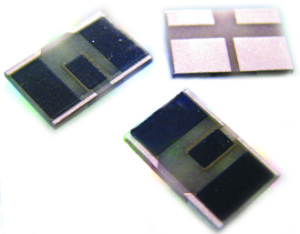 High Power AlN Thick Film Attenuators
The V Series surface mount thick film on Aluminum Nitrade attenuators are compact, high performance devices especially suited to high power RF and microwave applications. IMS design principles assure a proper balance between a well behaved frequency response and optimal thermal performance for our attenuators, whose architecture maximizes allowable dissipated power for the upper db levels.
Proper use of RF principles at the circuit level will allow acceptable thermal and electrical performance upt to 10 Ghz.
V SERIES SPECIFICATIONS
Value Range: 0dB, 1dB  to 30dB
Standard Impedance: 50Ω Nominal
DC Attenuation Stability: .0001 dB/ dB/ deg. C
Operating Temperature: -55 deg. C to 150 deg. C
Architecture: Thick Film on Aluminum Nitride
Attachment: Solder or Epoxy
• Modelithics simulated part







FREE TRIAL
Evaluate this IMS part through Modelithics measurement-based simulation models.
For 90-day FREE trial visit:  www.modelithics.com/mvp/ims